Streetwear Custom Service
OEM Streetwear
Accept Customization on Streetwear Clothing
You, as a brand owner or a sourcing manager, should rely on OEM custom Streetwear clothing manufacturers to do the following:
Make garments from scratch rather than offer you ready-made pieces.
Make samples according to your instructions.
Provide you with a great choice of fabrics and accessories.
Offer advice on how to make apparel more sustainable.
Let you visit our factories so that you can see for yourself how your product develops.
Deliver on time and be able to expedite production if needed.
Have good communication skills and be able to communicate effectively with you and understand your needs.
Before we dive into each of these bullet points in more detail, remember that you can rely onRainbow Touchesto do all of the above, especially if you needcustom streetwear.
The minimum order quantity is 200 pieces per design per color in any sizes. If your design uses special fabrics that need to be dyed or customized, the MOQ is 500 pieces per design per color in any sizes.
If this was enough information for you tosend us an enquiry, then please do so. If not, we invite you to read further.
To learn more about the details of Rainbow Touchesfactory Strengthbefore cooperation.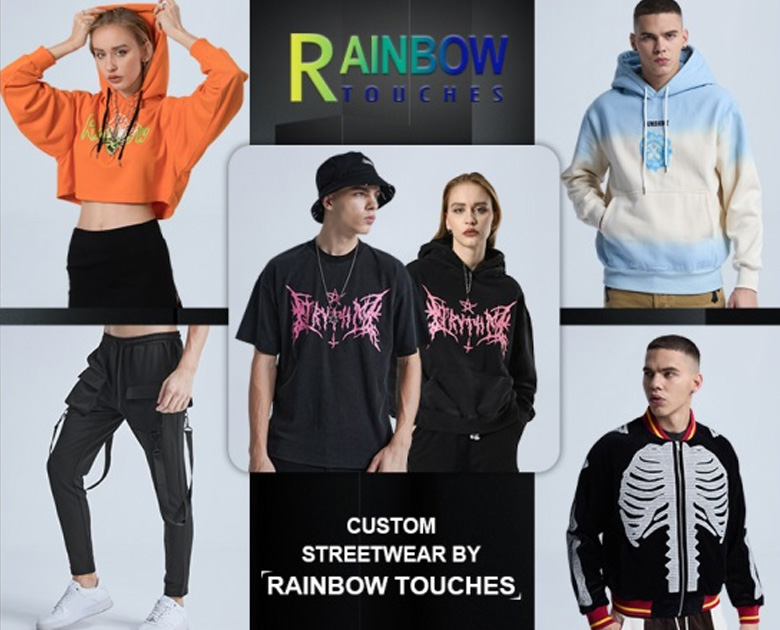 *As you can see, we offer customization for a diverse range of clothing. This list is not limited to what you see in the image above
Make garments from scratch
You are probably looking for a OEM clothing manufacturer because you don't want to buy ready-made garments from a wholesaler. You probably need more customization than just putting your logo on whatever piece of clothing. That's why you should stick with custom clothing manufacturers with a database of different types of t-shirts, hoodies, jackets, streetwear and more are the way to go.
OEM custom clothing usually requires you to provide detailed requirements such as designs, samples or specifications, and the manufacturer will manufacture and mark your brand on the clothing. Custom clothing makers are textile professionals that make different clothes all the time. We rarely rely on established templates or patterns. However, we usually need a tech pack or other detailed instructions to make and send you samples.
What is a tech pack?
A tech pack is a document or drawing that contains details such as the manufacturing process, size specifications, sewing methods, and fabric information. For clothing customization factories, the tech pack is essential as it contains all the details and requirements requested by the client, providing guidance and reference for production, thereby ensuring product quality and customer satisfaction.
Size and specifications: The tech pack includes the size and specifications of the clothing, such as the collar, sleeve, and pant leg length, which are crucial as they determine the comfort and fit of the clothing.

Sewing methods and craft: The tech pack provides detailed instructions on sewing methods andCraft, such as the color, thickness, and strength of the sewing thread, which are important factors in ensuring product quality.

Fabric selection and quantity: The tech pack guides the selection and quantity ofFabricso that the factory can purchase and use the correct fabric according to client requirements, thereby producing clothing that meets the requirements.

Quality requirements: The tech pack also includes quality requirements, such as yarn quality, sewing thread density, ironing level, etc., which help the factory understand the client's requirements and standards, ensuring that the product meets the requirements.

Product consistency: The tech pack ensures that all products are manufactured according to the same specifications, size, and quality standards, ensuring product consistency and quality stability.
The image below is the most basic depiction of a tech pack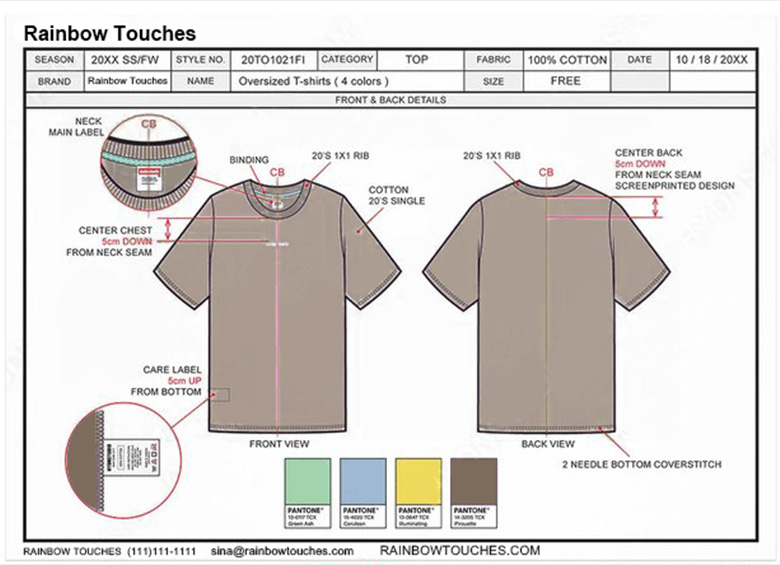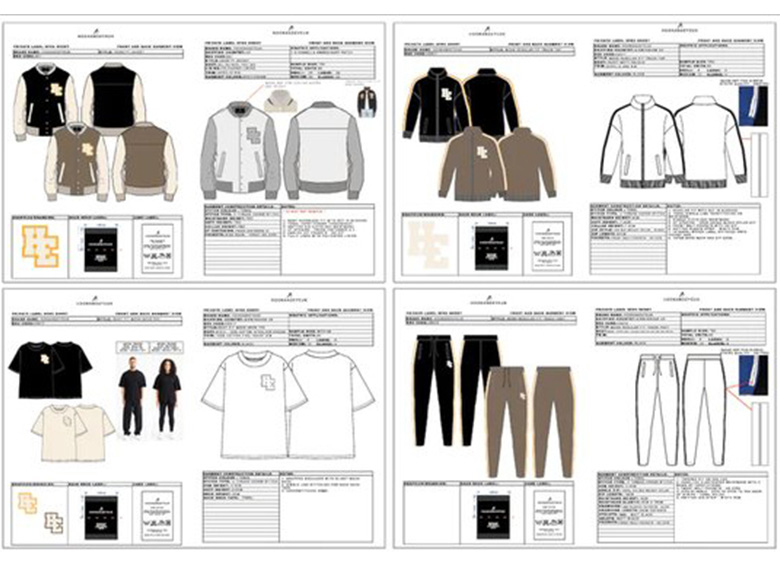 Ideally, you should send one to us. But not having one shouldn't stop you from reaching out to us. Sending an image of an existing garment you believe represents what you want yours to look like also helps.
If you're uncertain about sizing, we are able to offer you one or more sizing solutions, especially if you have a more specific target audience.
As we have been in the business since 2013, we can offer various sizing options. Also, the vast majority of our products so far were custom apparel. So,send us an emailand let's see how can we cooperate.
If you have no tech packs and want to get designs, samples and specifications, etc. from us,private labelservices is a good solution for you.
13 Step Guide on How to Talk with Streetwear Clothing Manufacturers
1. Introduce yourself
Making a good first impression on a manufacturer is a great way to start your business interaction. Introduce yourself and your brand clearly. Give them enough details to reassure that you are a reliable client and ready to do serious business.
Outline your vision and specialities of your brand. Share as much detail as you can. If you advertise certain unique features that make your streetwear garments stand out in the market, mention them to the manufacturers so they are more careful with those details.
Also, tell them about your personal background and experience in the apparel industry. This might reflect in the way manufacturer interacts with you. If you have less experience, they will not assume you know every single tricky detail about the production process and take more time to explain to you the most important aspects of it. Whereas, if you already had some experience with clothes production, the partners will cut to the chase and use more elaborate terminology.
2. Find the right manufacturer
When explaining to a manufacturer the type of clothes you want to produce make sure to enquire about their previous experience. Have they done anything similar in the past? Try to uncover as much information as you can. Can they name some of the brands they worked with? Are there any images or links available?
Finding out that the manufacturer of your interest has never done similar orders is not a reason to drop it. Just be advised that they are figuring it out as they go, just like you do.
3. Production stages
When contacting a manufacturer, you must be clear about the production stage you have already reached. Think of the next steps, what type of services will you need, what services do you expect from your manufacturer? Do not just assume it can meet all your needs. In some cases, manufacturing companies work with subcontractors who will be willing to help you. In other cases, they might be able to refer you to the service providers they know of. However, chances are you will have to do some outsourcing, so be prepared.
4. Request a quote
Be very particular when requesting a quote. Request it for a certain number that you have in mind. Asking a quote for 10,000,000 items might raise suspicions and your account will not be seen as a serious business opportunity. Be firm with the numbers. If you are interested in a spread of quantities ask about the terms for higher or lower amounts. They might offer you a special deal for a greater production volume.
5. Adhere to the budget
Set a budget and decide how much deviation you can allow. Then ask the manufacturer if they can meet it. Requesting cost per unit might seem as the most straightforward way to approach this. Unfortunately, it is often impossible to calculate before the first sample is produced. In this case ask to break down the cost in groups that include different garment components (e.g. fabrics, trim, accessories, print, labour). To calculate the clothing quotation, what factors need to be considered, if you are interested, you can see theprice explanation
6. Clarify the process
To keep track of the production process, make sure you understand the steps that are involved in working with that particular manufacturer. Make note of the overall timeframe.
7. Production slots
Ask for the lead time and available production slots. Keep in mind that introducing last minute changes might result in missing the reserved slot and severely delay production. Discuss with the manufacturer the cut off date for the last minute changes and ask about the time and financial implications of neglecting it.
8. Stick to the timeline
Create a timeline and confirm the clothing manufacturer can meet the terms. If not, ask what changes can be introduced to the process to finish within the timeframe.
9. Give it all you have
Double check the manufacturers have all the information, materials and resources they need to successfully launch and compete the project. Once you get the confirmation and production starts, keep an eye on the process.
10. Do not hold the samples hostage
Manufacturers require approved samples before they start. Make it clear to the manufacturer if you plan to take photoshoots of the samples. If your sample production company is different from the one that does the bulk manufacturing do not forget to bring them samples in time.
11.Sign A Confidentiality Agreement
Manufacturers are required to abide by the basic ethics of the industry and clients, and you can sign a non-disclosure agreement with the manufacturer to protect your design intellectual property rights.
12. Uncover the hidden costs
Cost of garment manufacturing may or may not include charges for labelling, packaging, shipment, import or export duties. To avoid disappointment, specify this early in the process.
13. Pay on time
Seal the deal by transferring payment on time.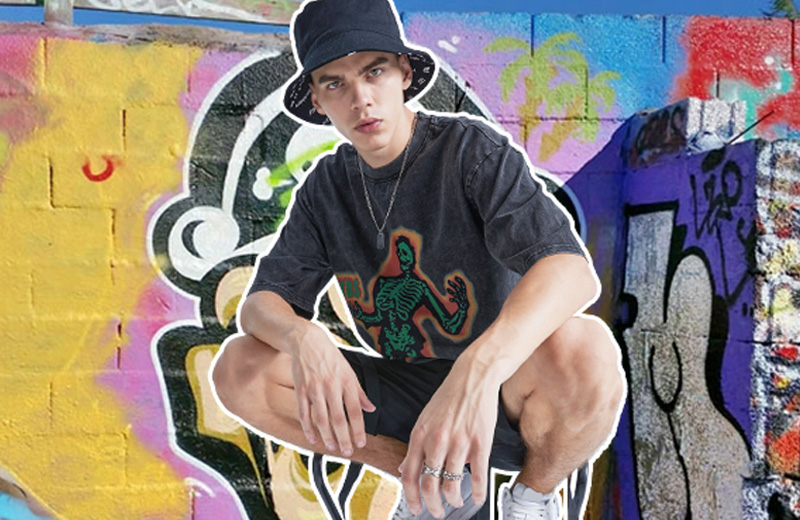 To get the best possible price and lead time estimate, please provide the number of designs and quantity per design, please provide the number of designs and the quantity for each design. If you have more detailed information, such as fabric, size and workmanship, you can send attachments with teckpack to get a quick quotation.
Rainbow Touches with over 15 year clothing manufacturing experiences, providing one-stop private label custom knitted and woven garments service.
Strearwear is not just clothes, it reflects a culture of individuality. Warm welcome purchasing manager, individual clothing brand owners & designers, and wholesaler, ects. Email us your specific inquiries.

Name:

Sina Lee
Tel:

0086-13423110605
0086-0769-81519190
Email:
WhatsApp:
Skype:
Address:

Floor 2, No. 6, Jiaoyu 2nd Road, Chigang, Humen Town, Dongguan, Guangdong, China