Why Choose Us
Rainbow Touches has a strong production capacity to ensure timely delivery of your orders. Our factory is equipped with advanced machinery and equipment, and we have a highly skilled and experienced production team to ensure the quality of our products. We take pride in our efficient and professional production process, which allows us to provide our customers with high-quality customized streetwear at a competitive price.
Strong Factory Strength
Innovative R&D Design Team
Fast Sample with Quality Assurance
Agile Production Process
Strict Quality Control
Stable Supply Chain Management
Factory Strength
Rainbow Touches has more than 15 years of experience in manufacturing streetwear clothing, and has accumulated rich industry knowledge and technical strength. As a supplier, we provide brand owners and designers with a full range of OEM customization services to meet customers' needs for unique trendy clothing.
Our factory has advanced production equipment and a professional team, including designers, cutters, sewing workers and quality inspectors. Through efficient production process and strict quality control, we are able to provide high quality and on-time delivery of custom garments.

Rainbow Touches Year
15 years garment production experience
10 years export experience
Scale and Equipment
8,000m2
Guangdong factory and Hubei factory
Approx 60 sets of Lockstitch Machine
Main Products
T Shirts/tank tops/ hoodies & sweatshirt /shorts / trousers / jackets/ coats, etc.
Good at knitted/woven clothing
Provide 900styles new designs per month
Factory Output
110k pcs/monthly
Produced 163 styles bulk orders one month
Workers
100+ workers
8 paper pattern master with 25 years experience,
Guangdong Factory
Specializes in all kinds of knitted products and the workmanships of embroidery, printing, acid washing, tie dye and so on. Accept print and washed test before shipment Can provide custom material for environmental protection Material passed by GRS certification Full name: Global recycled standard Some goods in stock can offer ready to ship services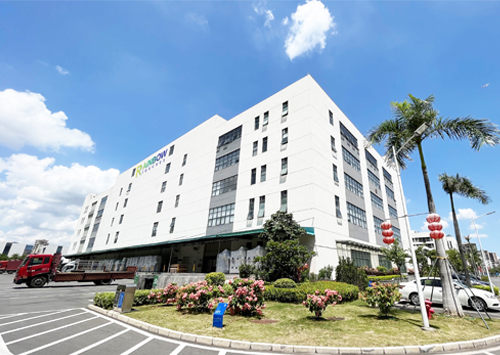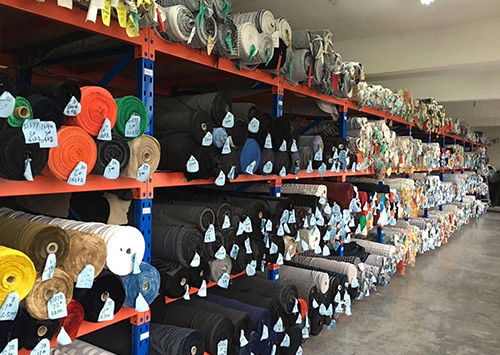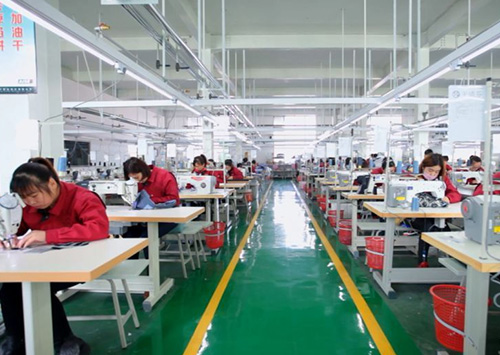 Hubei Factory
In order to expand business and serve better for customers, we has established a branch ubei Province. Yingcheng Yingsen Garment Co.,Ltd.,which starting work on December 11, 2021.
Factory Area: 3600㎡
Monthly Produce: 55k pcs
Workers: 60+
Major Technique: Specializes in woven products, such as: jackets, coats, cargo pants.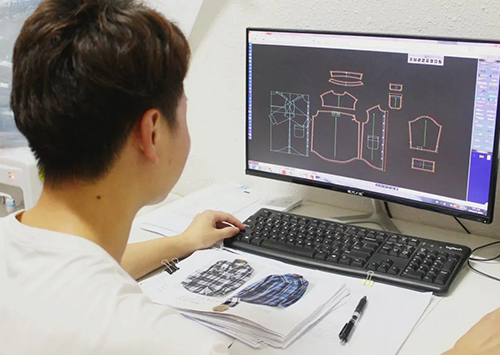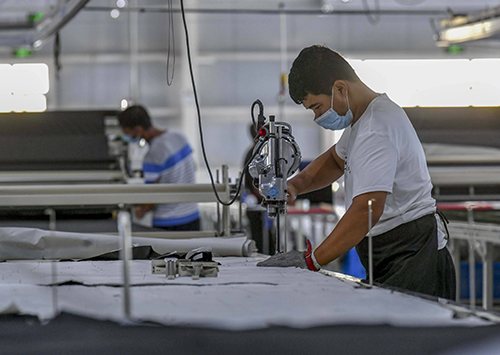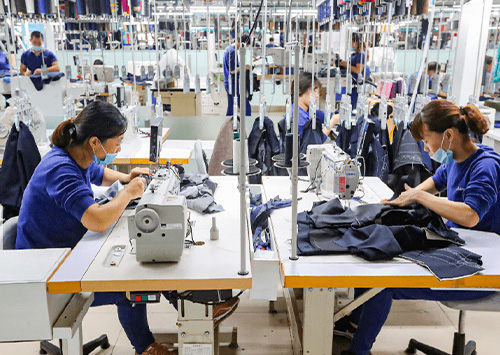 Production Equipment
The application of advanced equipment and technology in street fashion clothing customization factories can improve product quality, increase production efficiency and strengthen innovation capabilities.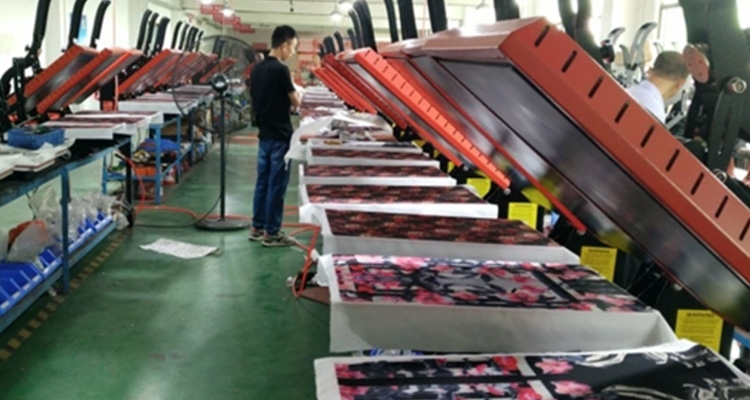 Hot Press
Hot press is commonly used to create prints and graphics on garments and textiles such as t-shirts, tank top,shorts, etc.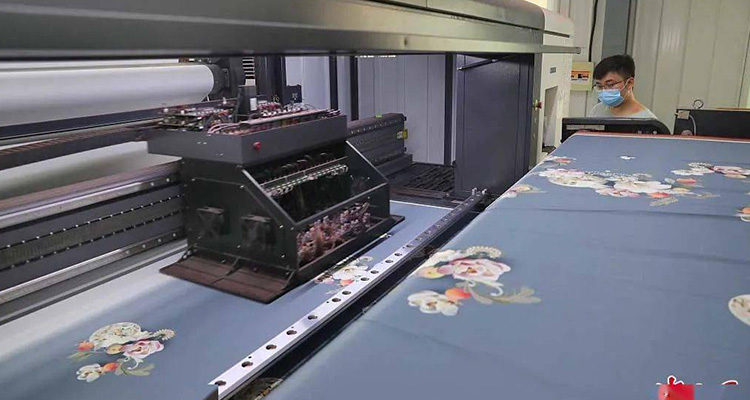 Digital Printing Machine
Digital printing machine uses ink-jet or dye-jet technology to accurately print patterns onto clothing through computer-controlled movement of the print head and ink jets. It enables high-quality, high-resolution pattern printing with greater design freedom.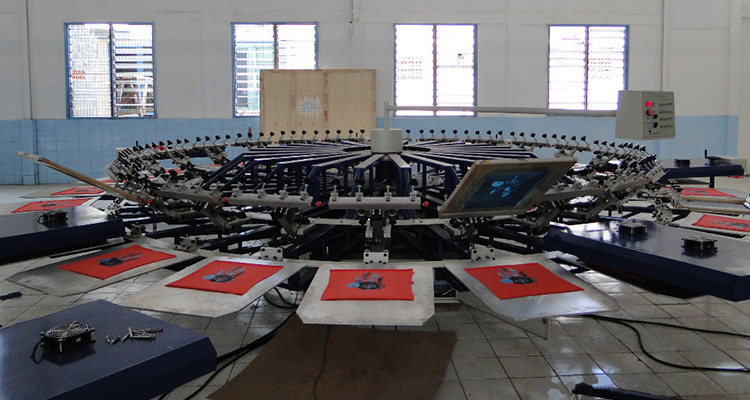 Semi-automatic Screen Printing Machine
The semi-automatic screen printing machine is to manually operate the squeegee to scrape the ink paste evenly across the screen template, so that the ink paste penetrates the screen and prints patterns and designs. Semi-automatic screen printing machines are suitable for small batch production and custom printing needs.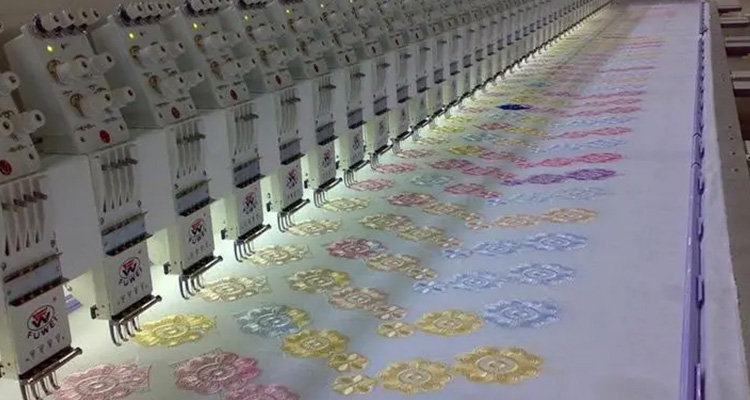 Embroidery Machine
The embroidery machine can perform embroidery operations automatically, and embroider according to pre-designed patterns and programs, and can realize complex patterns and multi-color embroidery.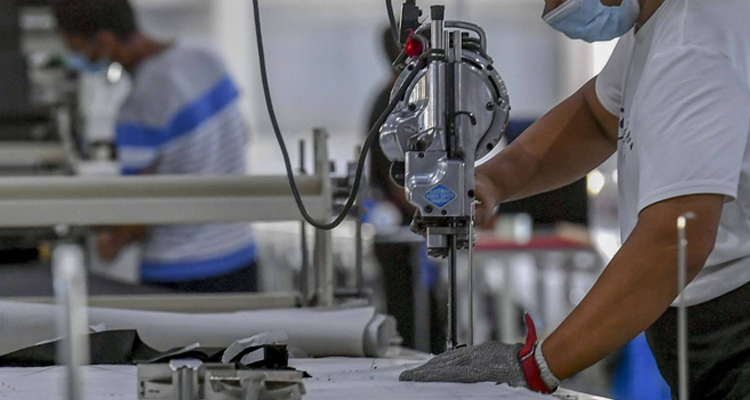 Electric Cutting Machine
Electric cutting machine is a device that uses electricity to cut fabrics and textiles. It usually has an automated cutting function that can quickly and accurately cut out the desired fabric shape. This equipment improves the speed and accuracy of cutting. sex, saving time and labor costs.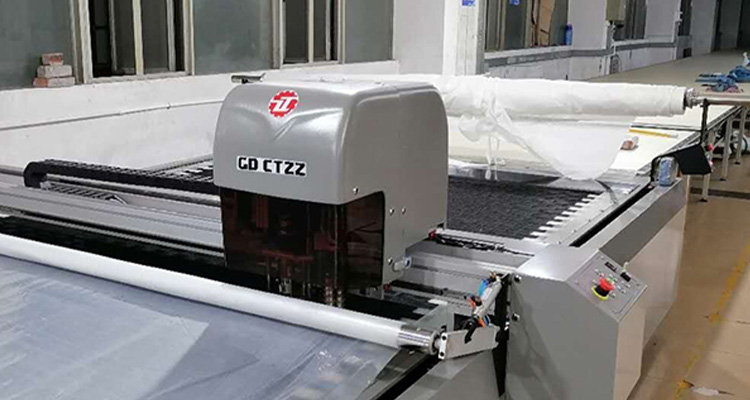 Laser Cutting Machine
The laser cutting machine uses the high energy density of the laser beam to cut fabrics without traditional knives. The laser cutting machine has very high precision and flexibility, and can realize complex cutting and embroidery patterns. It is suitable for all types of fabrics and reduces cutting errors and fabric waste.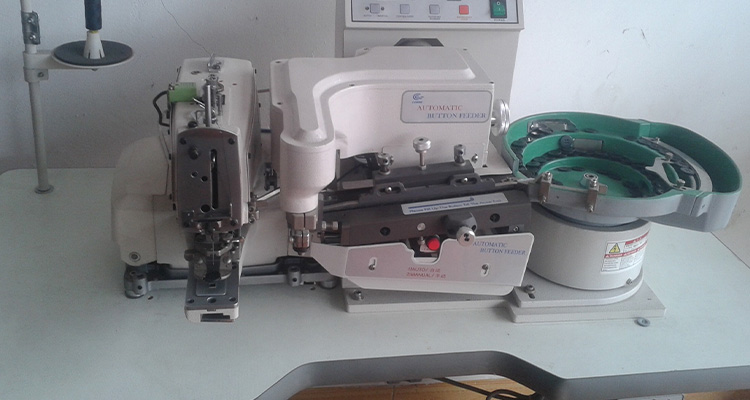 Automatic Button Feeder
The purpose of the automatic button feeder is to fasten and efficiently button garments. For mass production, the automatic button feeder can greatly improve production efficiency, reduce labor costs, and ensure the consistency and accuracy of button sewing. This can help us complete orders faster, meet customer needs, and improve factory production capacity and competitiveness.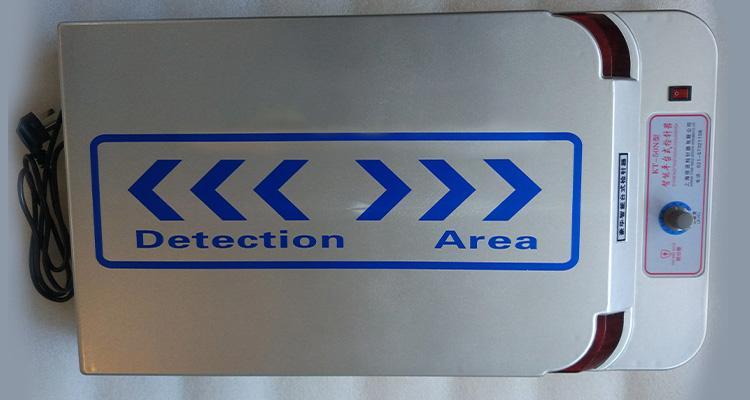 Desktop Needle Detector
Metal Needle Detector can help to find and remove metal impurities in time, such as needles, needle tubes, needle pieces, buttons, etc., improve product quality and safety, and ensure that products meet the requirements of regulations and standards.
R & D Design Capabilities
Our strong R&D capability sets us apart in the custom clothing industry. Our team explores new designs, fabrics, colors, cuts, and accessories to ensure your clothing meets your personalized requirements. With 24-hour CAD pattern design and 3D modeling capabilities, we can quickly turn your ideas into samples. We offer innovation and personalization to your custom clothing, and can help you achieve any type of clothing you need.

Pattern Design Capability
Creates unique and personalized patterns in various styles, using the latest software and hand-drawing techniques.
We consider factors like complexity, size, and fabric to ensure successful production.
Technical drawings are provided for the production process.
Modeling Capability
Use 3D software to create realistic and detailed clothing samples quickly.
With 3D models, you can evaluate designs and avoid issues before production, saving time and cost.
Reasonable Integration of Resource Supply Chain
There are factories in Guangdong and Hubei with an integrated supply chain.
Stay updated with streetwear trends and product information, enabling us to quickly understand required fabrics and processes to provide production samples.
Professional Designers
Team professional designers from top universities in China and part-time overseas designers, collaborating with third-party design companies such as ASOS, PALACE SKATEBOARDS, and ZANEROBE.
Strong R&D and innovation capabilities and are always exploring the dark streetwear field.
If you are a designer with a passion for streetwear brands, welcome you to join us.

Pattern Design Capability
Our design team has extensive experience and professional knowledge, providing you with a variety of pattern design services in different styles. Using the latest design software and tools, we create unique and personalized patterns quickly. Our designers use design software and hand-drawing techniques to create patterns and convert them into technical drawings required for the production process. We consider factors such as complexity, size, and fabric of the pattern to ensure that the final clothing pattern meets expectations and can be successfully produced.

Modeling Capability
Our modeling team has mature technology and experience, able to quickly and accurately model and produce realistic and detailed samples. We use 3D modeling software and technology to present the most realistic effects for your better understanding of your design. We provide three-dimensional solid models, which can visually display the appearance, details, and structure of clothing, helping you better understand and evaluate design solutions. We use computer-aided design (CAD) software to make 3D models and adjust and modify them according to your needs. Through modeling, we can avoid problems and save time and cost in actual production while also preparing samples and mass production more quickly.
Reasonable Integration of Resource Supply Chain
We have factories in Guangdong and Hubei, with numerous processes and fabrics, and have integrated an entire supply chain. In terms of product information, we have two business units in South China and Central China, which can grasp the information on the popular clothing industry in China and often participate in domestic and foreign exhibitions, paying attention to product information such as fashion magazines such as Harper's Bazaar. Once you provide the product, we can quickly understand the required fabrics and processes and provide you with the processes and fabrics for production samples immediately.
We have professional designers from Wuhan Academy of Fine Arts, Wuhan Textile University, and Guangdong Design Institute, with strong professional academic and aesthetic abilities. In addition, we also recruit part-time overseas designers to give us greater advantages in R&DDesign Ability. If you are a designer with dreams and love for streetwear brands, you can alsojoin usand collaborate with us. We cooperate with third-party design companies overseas, such as ASOS, PALACE SKATEBOARDS, ZANEROBE, and other streetwear brand designers, always working with the best people, and have strong R&D and innovation capabilities. From the perspective of fabric, auxiliary materials, technology, talent, information resources, and customer market expansion, we have been exploring the streetwear field and look forward to working with you.
Fast Sample with Quality Assurance
As a streetwear custom manufacturer, fast sample with quality assurance that make us stand out in the custom apparel industry. Rapid proofing can quickly meet customer needs and speed up the customization process. It allows customers to preview and review garment samples before placing an official order, ensuring that the final product will match their design intent. It also helps to speed up the entire production cycle and reduce waiting time for faster response to market demand and customer customization requirements. Our designers and production teams work closely together and are able to quickly make necessary adjustments and modifications to ensure the final product matches their brand image and style.

Quick Response
Swiftly respond to customer demands by providing samples in the shortest possible time as we specialize in streetwear clothing customization for more than 15 years.
Deep understanding of market changes and customer needs allows us to get started immediately.
Efficient Quality Assurance
Place a great emphasis on quality during the design and production of our samples to ensure that the final product meets your requirements.
Equipped with advanced tools such as CAD sampling machines and digital cutting machines, we are able to quickly and accurately produce samples that meet your specifications while optimizing our workflow and timelines.
Customization
Create product samples based on your Tech Pack or design requirements.
If you don't have a design, we can use retail products or local store references to create one.
We can also purchase and deliver various samples and fabrics from the Chinese market to improve R&D development.
Experienced Team
Our experienced team has over ten years of experience in the streetwear customization industry.
Understand market trends and customer demands and apply this knowledge to our work to ensure that we deliver the highest quality and most optimized service possible.
Production Process
Rainbow Touches place great emphasis on the production process of orders, and we strictly control every step to ensure that every piece of clothing meets your requirements and has high-quality features. We have established an agile production system, which can respond to changes in customer needs faster.

Paper Pattern Making
Based on the design drawings you provide or those designed by our designers, we will make paper patterns. This step is to ensure that the size, style, and pattern of the produced clothing are consistent with your requirements.
Procurement
After confirming the paper patterns, we will purchase the required raw materials according to the order. This includes fabrics, accessories, and other materials.
We will select high-quality, environmentally friendly, and compliant materials to ensure the quality of the produced clothes.
Cutting
After purchasing the raw materials, we will proceed with cutting. We will cut the fabric according to the paper patterns and tailor them according to your requirements.
After cutting, we will classify and organize the fabrics.
Sewing
After cutting, we will sew the fabrics. We will sew according to the order requirements, using high-quality sewing machines and threads to ensure the quality and effect of the clothes.
Quality Inspection
After the clothes are sewn, we will conduct a quality inspection.
We will strictly inspect the pattern, size, workmanship, fabric, accessories, and other aspects of the clothes to ensure that the quality meets the standard.
Ironing
After passing the quality inspection, we will iron the clothes. This process is mainly to make the clothes more smooth and perfect.
Quick Response
After ironing, we will package the clothes. We will package according to your requirements to ensure that the products can be transported intact to you.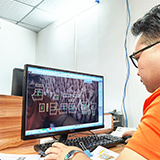 Paper Pattern
1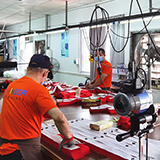 Cutting
2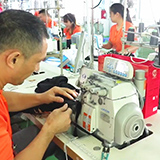 Sewing
3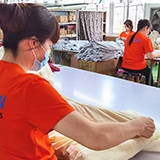 Inspection
4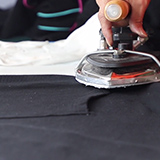 Ironing
5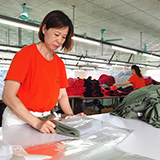 Inner Packing
6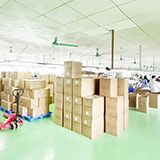 Outer Packing
7
Production Related Key Areas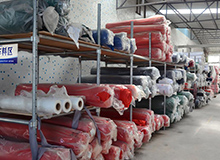 Fabric Inspection Area
1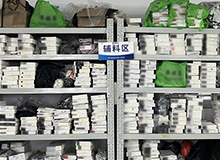 Accessories Area
2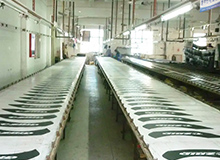 Cutting Printing InspectionArea
3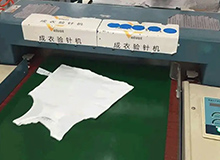 Needle Testing Machine Placement Area
4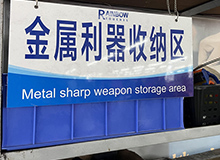 Metal Sharp Weapon Storage Area
5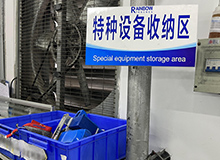 Special Equipment Storage Area
6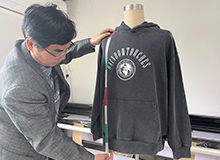 Product Measurements
7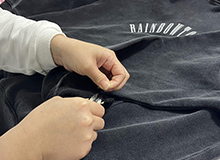 Checking Threads
8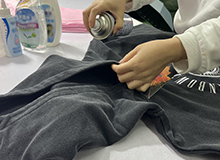 Decontamination Area
9
Packing Area
10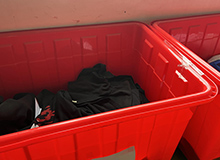 Unqualified Area
11
Production Line Personnel Structure

Quality Control
We place great emphasis on quality control and strictly monitor every aspect of the production process, from raw material procurement to finished product inspection, to ensure that every garment has high quality.

Raw Material Inspection
Check if the fabric meets the requirements, such as composition, weight, and hand feel.
Check if the accessories such as zippers, buttons, etc. are complete and meet the quality standards.
Cutting Quality Inspection
Check if the cutting is accurate, including size, shape, etc.
Check if there are any defects in the fabric, such as holes, tears, stains, color yarns (especially for white garments), etc.
Sewing Quality Inspection
Check if the stitching is neat, such as whether the thread ends are smooth, whether the bone position may burst, etc.
Check the symmetry of each part, such as sleeve length, shoulder width, etc.
Processing Technology Inspection
Check if the processing technology for accessories, printing, embroidery, etc. is accurate, such as whether the position is correct, whether the color is consistent, whether there are omissions in the process of using specialized machines, etc.
Check if the pattern is clear and full, such as for snowflake frying and high-temperature ironing patterns, the finished product needs to be pulled hard to see if the fabric can withstand the force without tearing.
Finished Product Quality Inspection
Check if the size and color of the finished product meet the requirements, and inspect in order from top to bottom, left to right, front to back.
Check if there are any defects or damages in the finished product, such as uncut thread ends, uneven hemlines, etc.
Packaging Quality Inspection
Check if the labels, hang tags, instructions, etc. are complete and meet the requirements.
Ensure that the packaging, boxing, and strapping are firm to avoid damage.
Our Certification
Factory certification is very important to our company. It not only proves our quality management level and compliance, but also enhances customer trust and market competitiveness. It also provides us with opportunities for continuous improvement and contributes to the success of the company. and lay a solid foundation for sustainable development.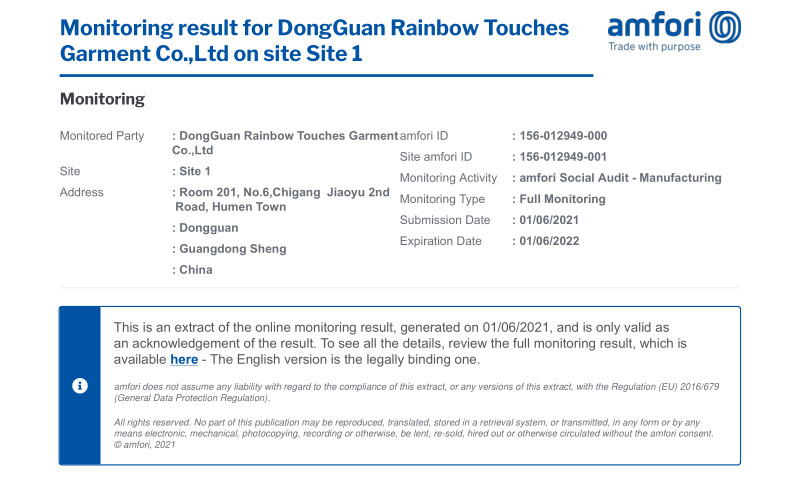 *BSCI certification is a social responsibility audit to ensure that our factories comply with labor regulations, pay attention to employee welfare and safety, and adopt sustainable production methods.
Product Certification
We attach great importance to product testing and certification, and are willing to accept professional institutions to conduct fading tests and other tests on our products. The following is a real customer case, showing our efforts and achievements in hoodie colour fastness test:
G Brand Hoodie Colour Fastness Test
We cooperate with G brand. The customer wants to customize a batch of high-quality hoodies. In order to ensure the color fastness and durability of the product, we actively propose to the customer to conduct a colour fastness test and entrust a professional organization to conduct the test. We chose a reputable testing agency, SGS, to perform the colour fastness test. They use standardized testing methods and equipment to evaluate the color fastness of the hoodies.
Test results show that our hoodies survived the fade test. The color fastness rating has reached the optimal level of 4-5, which proves that the dye of the product is strong and not easy to fade. This is a testament to the excellent quality and durability of the dyes and workmanship we use.
Our high attention to product quality not only focuses on innovation in appearance and design, but also ensures that the products can maintain bright colors and durability during use. We are willing to share such cases with our customers, and are ready to accept any other necessary testing and certification to ensure that our products meet the quality standards and meet the needs and expectations of our customers.
Supply Chain Management
The supply chain is like a bridge that connects the upstream and downstream, integrating high-quality supply chains into our own advantage. Rainbow Touches places great emphasis on supply chain management, ensuring production and delivery times through the establishment of a stable supply chain system, and increasing customer satisfaction and market competitiveness. We will continue to improve our supply chain management system, enhance management levels and production efficiency, and meet the needs and requirements of our customers.

Supplier Management
Our suppliers include fabric, accessories, process assistance, packaging, transportation, etc.
Establish long-term and stable cooperative relationships with high-quality suppliers and regularly evaluate and monitor their performance to ensure that their quality, prices, and services meet our standards.
Production Planning
We ensure the efficient operation and timely delivery of production lines through detailed production planning and scheduling.
Schedule and monitor each order in detail to ensure that each process is completed within the stipulated time, achieving the efficient operation of the production line.
Logistics Management
We establish long-term cooperative relationships with logistics partners to ensure that their services and transport speeds meet our requirements.
Timely grasp the transportation status of goods and ensure the safe and rapid delivery of goods to customers.
Inventory Management
We plan the inventory of raw materials and components reasonably to avoid excessive inventory occupation of funds, reduce inventory costs, and ensure inventory accuracy and transparency.
Information Technology Construction
We use information technology and software systems to manage and track the supply chain, including procurement, production, logistics, quality, and inventory information.
Track and monitor every aspect of the supply chain in real-time and promptly handle exceptional situations to ensure the efficient operation and optimization of the supply chain.
Strict Quality: We always prioritize quality. We carefully select premium fabrics and materials, and rigorously control every step of the production process to ensure that our custom clothing possesses outstanding texture, comfort, and durability. We firmly believe that high-quality products are the foundation for building successful brands.
Innovative Design Team: Our design team is full of creativity and passion. We stay on top of trends and understand market demands. Through close collaboration with our clients, we provide professional design advice and customized solutions to ensure that each garment reflects a unique brand personality and fashionable style.
Confidential Collaboration: We highly value our clients' business confidentiality and brand image. We promise absolute confidentiality, strictly adhering to contract agreements and intellectual property laws to ensure that our clients' design and product information remains secure and undisclosed to third parties.
Flexible Customization: We offer flexible customization options, including OEM and Private Label services. Whether our clients require production based on their own designs or seek our professional advice, we are able to customize according to their specific needs and budgets.
Long-term Partnership: We are committed to establishing long-term partnerships with our clients. We care about their success and development, consistently providing high-quality customization services and growing together. We believe that a mutually beneficial and trusting partnership is the key to achieving win-win outcomes, whether our clients are brand owners, designers, importers, or entrepreneurs.
Rainbow Touches with over 15 year clothing manufacturing experiences, providing one-stop private label custom knitted and woven garments service.
Strearwear is not just clothes, it reflects a culture of individuality. Warm welcome purchasing manager, individual clothing brand owners & designers, and wholesaler, ects. Email us your specific inquiries.
Contact Person:

Sina Lee
Tel:
0086-13423110605 / 0086-0769-81519190
Address:
Floor 2, No. 6, Jiaoyu 2nd Road, Chigang, Humen Town, Dongguan, Guangdong, China

Name:

Sina Lee
Tel:

0086-13423110605
0086-0769-81519190
Email:
WhatsApp:
Skype:
Address:

Floor 2, No. 6, Jiaoyu 2nd Road, Chigang, Humen Town, Dongguan, Guangdong, China