( TWO DIMENSIONS OF SERVICE: )
1. Detailed Ordering Process – The 4 Scenarios
How To Cooperate With You?
Should you have all the details ready, namely the tech pack, just fill in the contact form below and we'll get back to you with our price and lead time estimate. This is ideal if you need custom t-shirt manufacturing.
Should we agree on the price and the lead time, we'll send you samples for approval. This is a perfect scenario for when you need us to manufacture on demand clothing.
We offer our own delivery, subject to availability. If you are ok with longer delivery times, we will cross-check different delivery options for the most affordable ones.
2. You only have the design
In case you have only the designs and the numbers/sizes, we can suggest materials and trims for them.
We can also send you the suggested materials to an address of your choice. Or we can custom fabrics for you.
Once you confirm the trims and the fabrics, we'll send you a price and lead time estimate.
3. You need help designing your clothes
If you only have a rough idea of what your clothes should look like, our designers will send you their suggestions for a nominal fee.
Once you approve the designs, we can talk materials and trims. Just like in step 2, we'll give you our suggestions and send fabrics upon request.
Once everything is agreed upon (fabrics, trims, samples, printing, price, lead time), we'll start working on your garments.
4. You want us to copy an existing garment
If all you have is a piece of clothes you want us to emulate, send it to us along with any additional comments and requests.
This is possible because we operate as a custom clothing manufacturer. The price of the sample service can be viewed in our FAQ, which has a specific sample price, such as $50 for a T-shirt, and a reasonable factory price for each version
The rest of the process is the same as described in the steps above. Once you confirm the designs, materials, and trims, we'll give you our price and lead time estimate. Our lead time for samples is two to three weeks.
Consulting services are still free, we are happy to discuss your project with you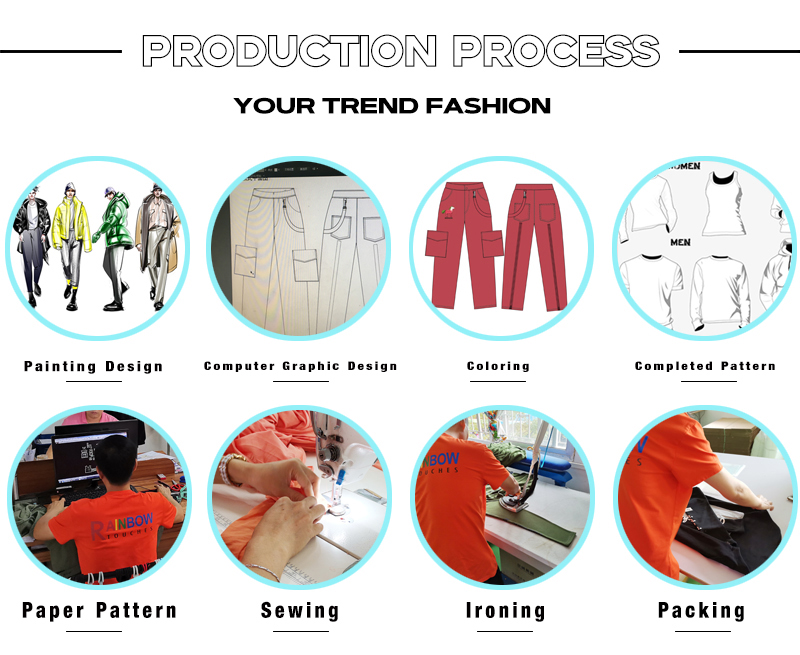 1. Pay attention to customer problems andA grow together with you:
1) After you receive the goods, you can give us feedback on the problems you have encountered. At the same time, we also do follow-up questionnaires for customer orders to collect customer pain points and optimize services;
2) Our team will keep reviewing with customers, through video conferences or emails, set up a customer private board of directors, and team VIP services.

Name:

Sina Lee
Tel:

0086-13423110605

0086-0769-81519190
Email:
WhatsApp:
Skype: